HomeBank User manual
Tips & Tricks
List-view quick search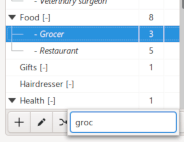 For most list-view (account, payee, category, ...) you can benefits from a quick search feature:
select one item (one item must be selected for this to work)
start typing on the keyboard the first letter of what you search
an input box will rise, getting the text you are typing
you can use up/down arrow key to navigate through the item that match
Date widget key action
On every date widget, you can use some key combination to fast change the day, month or year
up/down arrow key : change the day
up/down arrow key + shift : change the month
up/down arrow key + ctrl : change the year
Change the account order into main window

If you want to change the display order of your account in the main window list, you can do this from the account dialog. Just use drag & drop to re-order the accounts
Automatic cheque numbering
HomeBank also deal with automatic cheque numerating. You first need to configure the current cheque number into the account dialog. Then every time you add a new transaction, in the info field is empty, change the payment mode the cheque and the number will be filled. You can use 2 pad of cheque for each account.
Add Payee/Categories from transaction dialog
Whenever you add a transaction, you can also create a new payee/category with seizing directly a new item into the payee/category widget.